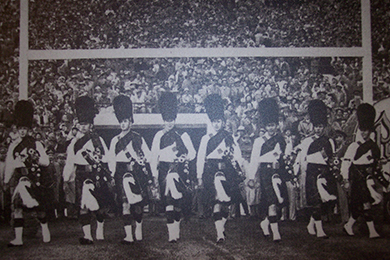 The Notre Dame Bagpipe Band can trace its roots to 1949, when the Irish Guard was formed as a bagpiping unit in the Notre Dame Marching Band. While the Irish Guard impressed many people with their stature and marching ability, it was quickly discovered that the bagpipes do not behave well in the late-fall weather in South Bend. The chill air condenses moisture on the reeds, killing the sound. Additionally, the relatively small number of Guardsmen made the pipes hard to hear in the roar of Notre Dame Stadium. The piping duties of the Irish Guard were abandoned in 1954, but the ceremonial Irish Guard remained.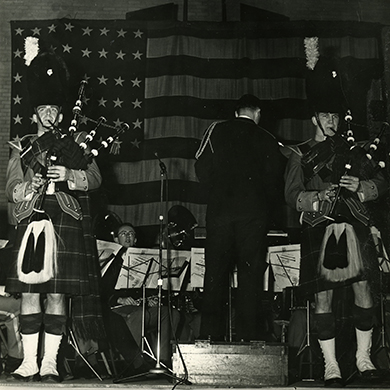 The pipes were down at Notre Dame until 1987 when Paul Harren '91, an avid piper, formed a band in his sophomore year. The band grew slowly, performing at a variety of small gigs and events. Successive student pipers and drummers have helped it thrive ever since. The band became an official student club and acquired pipes and drums. The band has a dual mission of performing with the pipes and teaching other students how to play them. The band provides most of the bagpipes, drums, and uniforms to its members.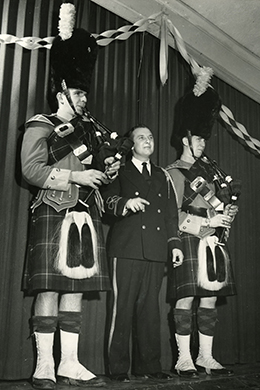 When the band re-emerged after splitting with the Irish Guard, it did not have the rights to the official Notre Dame tartan, so the pipers wrapped bed sheets and blankets around their waists to make kilts. In 2000, a talented group of freshmen with previous piping experience came to Notre Dame, and by the 2001 football season, the band was marching on campus for the first time. By mid season, the band acquired gently used kilts through the generosity of the Irish Guard. The band also began to build a drum line that played traditional syncopated bagpipe beats as well as some of their own compositions.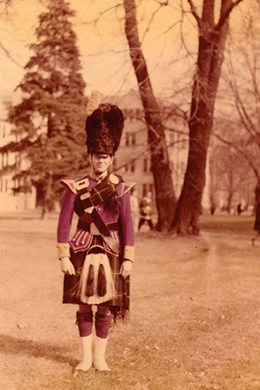 In 2011, at the request of Coach Brian Kelly, the bagpipe band began marching the football players into the stadium during the player walk at all home football games. The pipers and drummers now wear distinctive uniforms with kilts and plaids in the official Notre Dame tartan, glengarry bonnets, and black vests or doublets (distinct from the feather bonnets and red doublets worn by the Irish Guard). You can always find the bagpipes around campus on game day. They perform four hours before game time in front of the main building (the golden dome) and numerous other times at other locations. Bagpipes are loud, so if you are trying to find the band, just listen and follow the sound.
Since 2014, the NDPB has also been accompanying the Chicago Journeymen Plumbers Local Union 130 for the annual St. Patrick's day parade in Chicago. They can be seen in the parade itself as well as piping and drumming on the boats that dye the Chicago river green.
Band Alumni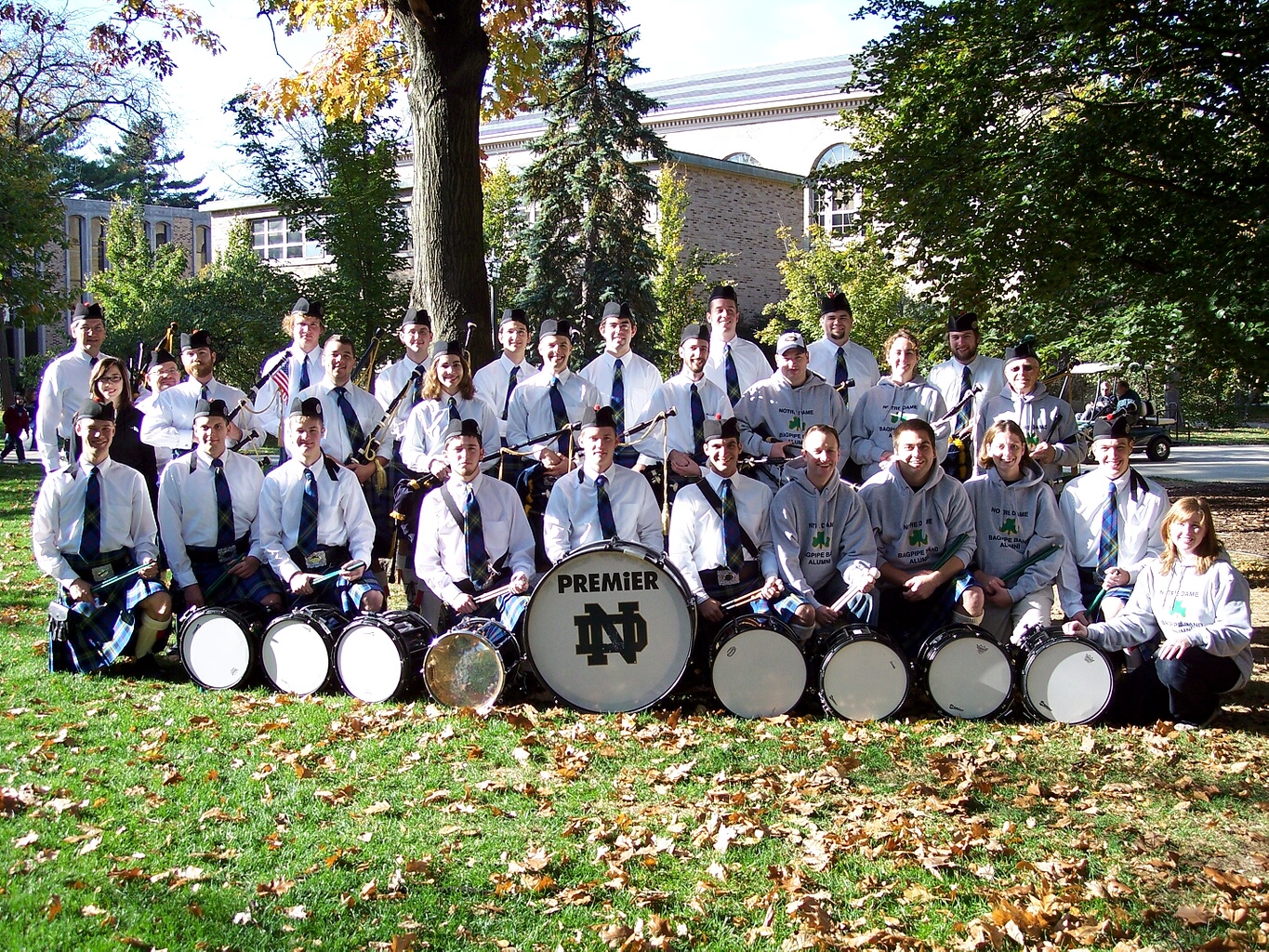 NDPB Alumni! Please help us complete this list. Send any corrections or changes to bagpipes@nd.edu
Brynn Alexander - Piper - Accountancy and Film, Television, and Theater, Class of 2018
Greg Angle - Tenor/ Bass - Computer Science, Class of 2011
Tom Apker - Bass - Aerospace Engineering, Class of 2003
Joe Arico - Piper / Pipe Major - Chemistry, Class of 2004
Chris Barron - - Economics and Peace Studies, Class of 2010
Brendan Beck - -
Sebastian Benedetto - Piper / Pipe Major - Biological Sciences, Class of 2026
Taylor Blachley - Piper / Pipe Major - Mathematics, Class of 2010
Carolyn Blessing - Bass - Biochemistry, Class of 2004
Nick Bloom - Snare - Philosophy, Class of 2010
K. Blouch - Piper - Electrical Engineering, Class of 2025
Tim Bodony - Piper / Bass - Government & International Studies, Theology, Class of 2001
Patrick Boulafentis - Piper - Class of 1999
James Burke - Piper - Finance & Political Science, Class of 2017
Kevin Burke - Piper - Government & International Studies, History, Class of 1993
John Burns - -
Scott Brodfuehrer - - Computer Science, Class of 2004
Daniel Brown - -
Don Cavett - Piper - Foreign Marketing, Class of 1955
Aedan Cannon - Piper / Pipe Major - Accounting and Arabic, Class of 2015
Charlotte Cardarella - Piper - Anthropology, Class of 2025
Kevin Carothers - Piper / Pipe Major -
David Chang - Piper - Law, Class of 2020
Delaney Clark - Piper - Mechanical Engineering, Class of 2024
Chloe Coddington - Piper - Physics, St. Mary's Class of 2024
Olivia Crowley - Piper - Graduate School (Romance Languages and Literatures)
Baxter Curry - Bass -
Rachael Curtin - Snare - French, Class of 2011
Tim Culbertson - Piper / Pipe Major - Mechanical Engineering, Class of 2005
Amy Curtis - Tenor - Psychology, Preprofessional Studies, Class of 2009
Chris Davis - - Business Administration, Class of 2013
Chad DeBolt - - Civil Engineering, Masters of Business Administration, Class of 2003
Joe DiCola - Piper - Mechanical Engineering, Class of 2026
Sean Dolan - Piper - Accountancy & Classics, Class of 2023
William (Billy) Doll - Piper - Class of 2020
Matthew Domenech - Bass - Class of 2018
Eddie Donnelly - Snare - Theology / Classics / Liturgical Music Ministry, Class of 2021
Patrick Donoghue - Snare - Chemistry, PhD 2008
Michael Donohue - Piper - Sociology, Class of 2003
Gavin Dooley - Piper - Mathematics / Global Affairs, Class of 2024
Ryan Doyle - Piper - Science Business, Class of 2019
Timothy Du - Piper - International Economics / Statistics, Class of 2025
He Duan - Piper - Business, Class of 2021
Brittney Dudley - - Mechanical Engineering, Class of 2010
James Elliott - Piper / Pipe Major - Chemical Engineering, Class of 2016
Braeden Fallet - - Music & Theology, Class of 2016
Mike Finan - Piper - Economics & Political Science, Class of 2018
Neil Flattery - - Mechanical Engineering, Class of 2014
Sharon Farrell - Piper - Government & International Studies, Computer Applications, Class of 2001
Adele Fleury - - Computer Science, Class of 2009
Alexander Frank - Snare - Chemical Engineering, Class of 2024
Eugene Freeman - - Information Tech. Management, Class of 2014
Eric Friedman - Snare - Masters of Business Administration, Class of 2009
Megan Gallian - Bass - Neuroscience & Behavior, Class of 2023
Thomas Garvey - Piper / Pipe Major - Class of 2021
Dan Gezelter - Piper / Faculty Advisor - Still at ND
Rebecca Glatz - Piper - Environmental Geosciences, Class of 2001
Dylan Goitz - Piper - Psychology, Class of 2018
Laura Gruszka - Snare - English and Music, Honors in Creative Writing, Class of 2017
Matthew Guarnuccio - Piper / Pipe Major - Accountancy, Class of 2024
Francis Hagan, III - Piper - Class of 2019
Andy Hagans - Piper - Management Information Systems, Class of 2005
Lisa Hannan - Piper - Computer Science, Class of 2000
Sara Hayes - Piper - Anthropology, Class of 1995
Joe Harmon - Piper - Marketing, Class of 2005
Paul Harren - Piper - Aerospace Engineering, Class of 1991
Jack Harrington - Piper / Pipe Major - Architecture, Class of 2023
Wes Harris - Piper - Design, Class of 2024
Nate (Philip) Hall - - History, Class of 2011
Sally Head - Snare - Biology, Class of 2006
Erin Henderson - Snare - Biology, Class of 2006
Joseph Hess - Tenor - Law, JD 2015
Kyle Higdon - - Aerospace Engineering, Class of 2011
Brendan Hogan - - Business, Class of 2021
Kelly Horner - -
Kathleen Hourican - Piper - Finance, Class of 2002
Robert Howland - Faculty Advisor
Hannah Huelskamp - Piper - Accounting, St. Mary's Class of 2023
Martin Hughes - Piper - Chemistry, PhD 1997
Charlie Jain - - Anthropology, Preprofessional Studies, Class of 2010
Bill Jenista - Piper / Pipe Major - Mechanical Engineering, Class of 2006
Devin Johndrow - - Holy Cross College, Class of 2012
Steve Johnson - Bass / Drum Major - Class of 2011
Tyler Johnson - Piper / Pipe Major - Business, Class of 2018
Evan Johnston - Snare / Drum Sergeant - Civil Engineering, Class of 2026
Melissa Jordan - Piper - Anthropology, Class of 2013
Daniel Kavanaugh - -
John Kelley - Snare - History & Law, Class of 2011 & JD 2015
Michael Kelley - Piper / Pipe Major - Philosophy & Law, Class of 2007 & JD 2010
Chris Kerzich - Piper - Chicago EMBA, 2019
Dylan Klee - Piper - Science Preprofessional & Greek and Roman Civilization, Class of 2016
Chris Knoedler - Piper - Sociology, Class of 2011
Patrick Koehr - - Mechanical Engineering, Class of 2018
Mike Korcynski - Piper - Mechanical Engineering, Class of 2011
Chris Lagos - - Architecture, Class of 2005
Andrew Lappin - Piper - Chemical Engineering, Class of 2004
Isabelle Latsch - Piper - Speech Language Pathology / Clinical Psychology, St. Mary's Class of 2023
Anton Lee - Bass - Computer Science, Class of 2024
Collin Leigh - Piper - Accountancy, MS Class of 2022
Alexandre Lemaignen - Piper - Mechanical Engineering, Class of 2018
Zack Lemmon - Piper - Biology, Class of 2008
Alan Liddell - Bass - Applied & Computational Math and Statistics, PhD 2017
Dan Lynch - Piper -
Gordon MacDougall - Snare / Drum Sergeant - Science Business, Class of 2015
J.P. MacPherson - Piper / Pipe Major - Theology & Philosophy, Class of 2012
James Maher - -
Andy Malec - Drummer/Piper - Chemistry, Class of 2001
John Markiewicz - Piper - Chemistry, PhD 2011
Keith Massey - Piper - Law, JD 2004
Trent Maurer - Piper - Psychology and History, Class of 1998
Felix Mayorga Alvarez - Bass - Business, Class of 2019
Joe McCrary - Piper - Mathematics & Medieval Studies, Class of 2010
Dan McCabe - Piper / Pipe Major - Economics & Accountancy, Class of 2004 & MS 2005
Gordie McDonell - Piper - Chemical Engineering, Class of 2025
Tristan McGrath - Bass - Class of 2019
Mark McLaughlin - - Chemistry / Philosophy, Class of 2009
Aiden McKiernan - - English & Medieval Studies, Class of 2010
Emily Medina - Snare / Drum Sergeant - Biochemistry, Class of 2018
Marco Medina, Jr. - Bass - Business, Holy Cross College, Class of 2018
Phyllis Medina - Mace - Staff, 2014-2022
Sean Meehan - Piper - Finance, Class of 1999
Sam Megown - Piper - Mechanical Engineering, Class of 2025
Alexandra Mesquita - Piper - Computing with Applied Mathematics, St. Mary's Class of 2023
Josh Meyer - Piper - Political Science, Class of 2008
Joshua Meyers - - Arabic & French, Class of 2018
Alex Miller - - Early Christian Studies, MA 2010
Clay Miller - Tenor - Sociology & Philosophy - Class of 2003
Luis Molina - Piper - Finance, Class of 2003
Eric Monger - Piper - Art Studio, Class of 2005
Breda Moran - Piper - Geriatric Social Work, St. Mary's Class of
Derek Mullen - Piper / Pipe Major - Accountancy, Class of 1997
Bridget Murphy - -
Dan Murphy - Piper / Pipe Major - Economics & German, Class of 1998
Rachel Murphy - Piper - Environmental Geosciences, Class of 2008
Maggie Murray - Piper - History / Film, Television, and Theatre, Class of 2023
Ryan Nelson - Snare - Architecture, Class of 2012
Bryan Nelson - Piper - History, Greek & Roman Civilization, Class of 2007
Allie O'Brien - Piper - Computer Science, Class of 2024
Mike O'Connor - Piper - English & Education, Class of 2008, MEd 2010
Megan O'Donnell - Tenor / Drum Sergeant - Electrical Engineering, Class of 2023
Meghan O'Neill - Piper - Law, JD 2008
Olivia Ortega - Piper - History / Political Science / Classics, Class of 2024
Thomas O'Sullivan - - Finance & Economics, Class of 2014
Colin Patience - Piper / Pipe Major - Architecture, Class of 2014
Katherine Peak - Piper - Accounting, St. Mary's Class of 2023
Tom Pecsok - Tenor - Finance, Class of 2011
Andrew Pelham - Piper - Computer Science, Class of 2024
Brandon Peterson - Snare / Drum Sergeant - Theology, Class of 2007, PhD 2015
Andrew Pool - Mace / Drum Major - Aerospace Engineering, Class of 2007
Timothy Prol - - Psychology & Philosophy, Class of 2004
Dana (O'Leary) Pryor - Piper - Accountancy, Class of 1994
Fernando Quijano - Piper - Mechanical Engineering, Class of 2008
Kari Quinlan - Piper / Pipe Sergeant - Applied & Computational Mathematics & Statistics, Class of 2015
Graeme Quinn - - Law, JD 2015
Piyush Ranade - Tenor - Aerospace Engineering, Class of 2011, MS 2014
Jacob Ricci - Snare - Neuroscience and Behavior, Class of 2017
Greg Robinson - - Political Science, Class of 2010
Anson Rhodes - Snare - Law, JD 2005
Matt Russel - Snare - Physics, Class of 2010
Will Ryan - Piper - Computer Science, Class of 2004
Kaitlin Salyer - - Physics & French, Class of 2018
Treven Santicola - Piper - Program of Liberal Studies, Class of 1993
Joe Scolaro - - Biology & Philosophy - Class of 2010
Zachary Schulte - Piper - Biochemistry, Class of 2025
Mike Schultz - Piper - Film, Television, & Theatre, Class of 2004
Maria Sheehan - Snare - St. Mary's Class of 2012
Ryan Slaney - Piper - Chinese & Aerospace Engineering - Class of 2011
Joe Smith - Piper / Pipe Major- Aerospace Engineering, Class of 2001
Jeff Stein - Piper - Biology, Class of 2004
Will Streit - Snare - Economics & Psychology, Class of 2013
Daniel Suma - Piper - Chemical Engineering, Class of 2016
Justin Sparazynski - Tenor / Snare - Education, Class of 2005
Danielle Taylor - Tenor - History, Class of 2006
Sal Thomas - Piper - American Studies, Class of 2008
Ron Thompson - Bass - MBA, Class of 2006
Max Turner - Piper - Electrical Engineering, Class of 2026
Redmond Tuttle - Piper - Program of Liberal Studies, Class of 2020
Jasper Twigg - Piper -
Dominic Vachon - Piper / Faculty Advisor - Psychology & Theology, 1980, MDiv 1985, still at ND
Pat Virtue - Piper - Computer Science, Class of 2002
Joe Volini - Piper / Pipe Major - Government & International Studies, Class of 2000
Emily Volpe - Piper - Biology, St. Mary's Class of 2024
Allegra Wallingford - Snare - Psychology, Class of 2018
Mackenzie Warren - - Physics, MS 2014
David Wartko - Snare / Bass / Drum Sergeant - Mathematics, Class of 2009
Eleanor Zahorick - Piper - Elementary Education, St. Mary's Class of 2024
Brian Zampell - Snare - Civil Engineering, Class of 2004, MBA 2006
Megan Wienandy - -